Pittsburgh Steelers Winning The Super Bowl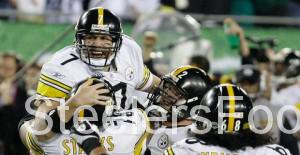 With everyone making their own assumptions and predictions of which NFL teams are going to win the Super Bowl this year, the team that has everything in their favor to win are the Pittsburgh Steelers. Thanks to USAToday, they cover 10 points as to why the Black and Gold will be the winners of Super Bowl 50 this season, we will go over just a few, so if you want to see the entire list, check it out here.
Point 1: No Super Bowl Winner, Since 2001, Has Ever Finished Their Previous Season Below A .500
With only a few exceptions to this rule prior to 2001, including the Rams victory in 1999, there hasn't been a Super Bowl champion since then that has ended their previous season with a record below .500. Due to this fact, that eliminates at least half of the teams in the NFL. including:
2014 Team Below .500
Altanta Falcons
Carolina Panthers
Chicago Bears
Cleveland Browns
Jacksonville Jaguars
Minnesota Vikings
New Orleans Saints
New York Jets
New York Giants
Oakland Raiders
San Francisco 49ers
St. Louis Rams
Tampa Bay Buccaneers
Tennessee Titans
Washington Redskins
This already eliminates 15 teams from the running based on that fact and the past 14 years of trends.
Point 4: No Team Has Won The Super Bowl The Year After Hosting It
It is a popular trend that no team wins when they play on their home turf during a Super Bowl, but they also state the fact that the team that hosted the year before also has the same fate. So, this year, the Arizona Cardinals are out of the running.
Point 7: Winning Games In February Is Very Important
A lot of people say that teams that win in January are the ones that will go on to win the Super Bowl, but what has been realized is that those teams that win in February actually have better chances of winning. There have been 13 games played in February, of those only three teams have won those games. This eliminates Houston Texans and Miami Dolphins.
By the end of the list, all of the teams except for the Steelers will have been eliminated, giving the team amazing chances of winning this years Super Bowl, and even though many have them losing their first game against the Patriots, ultimately they will go on to win the big game, so who cares.