Steelers Training Camp 2016
I grew up a Pittsburgh Steelers Fan; since I was born and raised in The City of Champions, it was my destiny.
At the beginning of every season I would plan to go to training camp. However, something always got in the way and I never made the trip. This year was different. I packed a lunch and got in the car; only 70 miles and I would finally make it. It was August 14, a Sunday with thunderstorms in the forecast but it didn't matter, I was rolling.
I pulled up to St Vincent's College in Latrobe Pa where the Steelers have had camp since 1966. There were lots of fans already there walking towards the field. It seemed as if every kid was carrying a football with the hope of an autograph. I felt like a kid myself, about to see the team that I have been cheering for my whole life.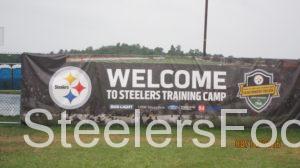 I walked up the hill towards the bookstore where the players were said to come out. To my right were the practice fields and Chuck Noll Field…awesome. Banners were on the light poles with the Steelers emblem and pictures of Mike Tomlin. Incredible.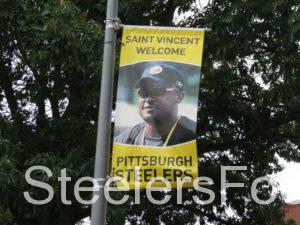 I made it close enough to get some pictures of the players coming out. Every time the door opened the fans cheered and were calling the players names. Needless to say I was having a great time as I joined right in with everyone else. The crowd erupted when Ben Roethlisberger came out and started to walk toward the field. It was a sea of black and gold trying to get a look at the Captain.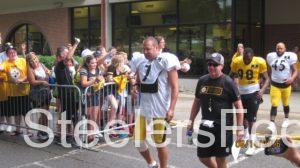 But then it all came to an end as the clouds just let loose and it started to rain cats and dogs; I am not sure if that saying is a Pittsburgh thing or not, but that's what my Dad always said.
Training camp practice was cancelled for the first time in 13 years. I am sorry that I didn't get the chance to hear the crash of the pads, and see the players working things out on the field. I am still glad that I made it and will do it again.
Check out my gallery of pictures Click Here.