Steelers Breakout Players of 2015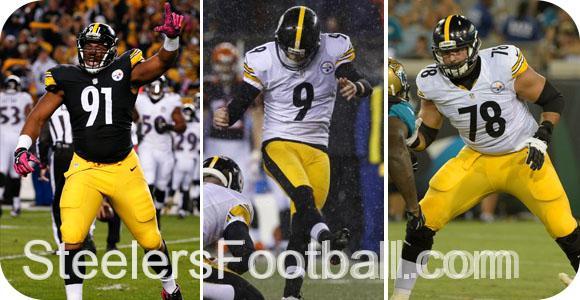 The Pittsburgh Steelers have a reputation of drafting players, not only for their current talent, but to develop them further into solid players that will one day be starters. During this past year, they had to put their players to the test, as many of their starters were injured during the first weeks of the season. We have three players that stood out the most when put into the starting position, whether a player retired or was injured.
Stephon Tuitt, Defensive End
Tuitt was a second-round pick during the 2014 Draft, and was selected to eventually take over for Brett Keisel, the former defensive end starter. During his rookie season, he didn't get much action on the field, but he was still able to get 17 tackles, 1 sack, and a fumble recovery.
Once Keisel retired that year, Mike Tomlin decided to make him a starter. This past season he played in all, but four games, and did an amazing job. He tied for the lead among all defensive linemen in tackles with 54, as well as getting 6.5 sacks; making him second best on the Steelers squad behind Cameron Heyward. On top of that he also got three tackles for a loss and an interception. In such a short time Tuitt has managed to become an amazing starter, and alongside Heyward they will continue for many years.
Chris Bowsell, Kicker
Kickers were suffering on the team, as some were lost to injury and others to bad performance, which is when the Black and Gold brought in Boswell in the fifth week of the season. He became their fourth kicker that year, and not much was expected from him. He was placed as starter, hoping he would perform well enough to get through the year until Shaun Suisham returned. Bowsell surprised everyone, making 29 out of 32 field goals during the season in only 12 games; he also made both of the kicks that were over 50 yards. This performance may have landed him a permanent placement as starter.
Alejando Villanueva, Tackle
His rookie year with the Steelers, Villanueva has shown that he is a solid and reliable tackle. He replaced Kelvin Beachum after he tore his ACL, and went in to cover Ben Roethlisberger's blind side; which is a big job. He is a 320-pound, 6-foot-9 machine that did a great job at protecting their quarterback. This may have helped him get into Tomlin's good graces and even a starting position next season.