Pouncey And Other Steelers Players Injured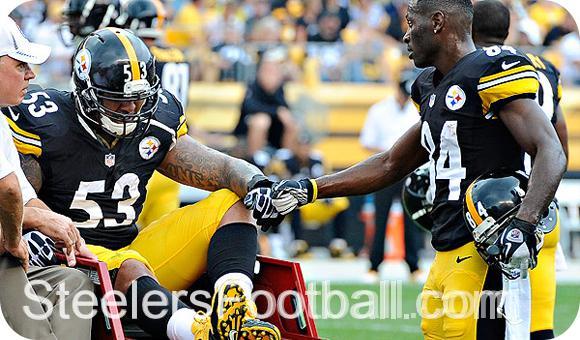 Nothing is worse to a Steelers fan than watching as your favorite team's players are getting injured, especially when they are playing in preseason games. We all know these games do not mean anything, as the points do not matter; it is adding insult to injury. This past Preseason Week 2 game, as well as practices in-between, have led to several key players on the roster to get placed on the injured list. One player whose injury made the biggest impact was Center Maurkice Pouncey, who suffered a broken ankle during their game against the Packers; whom they beat 24-19 if that is any consolation.
As it will be difficult to replace Pouncey, as QB Ben Roethlisberger relied heavily on the star Center. The team has a few possibilities of who will replace Pouncey on the field; with the strongest contender for that position is Cody Wallace, although they did just sign Doug Legursky, whom replaced Pouncey as center during Super Bowl XLV due to an injury. No one can really fill his shoes, but they will try their best.
Other players that have recently been injured and may cause a shift in the overall performance are:
Bruce Gradkowski Left-Hand Injury
Stephon Tuitt Ankle Injury
With Gradkowski out, we have seen Michael Vick at the Steelers compound, and has been signed to a 1-year contract to be Roethlisberger's back-up; that is if Gradkowski is not able to get back to full health in time, and could actually take over on first team if Roethlisberger were to retire at any time soon. The good news with Tuitt is that his injury is not as bad as previously thought, with a sprained ankle. It will take him a few weeks to recover, but the prognostic is that he will be back in shape to play in the regular season. The Steelers need all of their star players ready and healthy once the regular season starts, as they are being rated high and given great odds of reaching the Super Bowl this year.